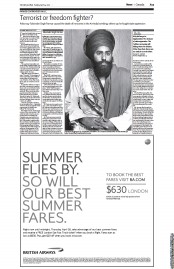 BY ROBERT MATAS VANCOUVER
The Globe and Mail
24 Apr 2007

Parvkar Singh Dulai, 29, was born and raised in the Vancouver suburb of Surrey. He prays at a modest Sikh temple at the end of a strip mall of mostly small warehouses.

As a Canadian Sikh, he considers those who die fighting terrorism in Afghanistan to be not much different than historic figures within his religion who fought injustices, and more recently Talwinder Singh Parmar, who was part of a violent campaign in the 1980s for an independent Sikh state that would have been called Khalistan.
Read more...